QualityIntegrityExperience
765.378.0539
email: mx@andersonaircraft.com
KAID
Anderson Municipal Airport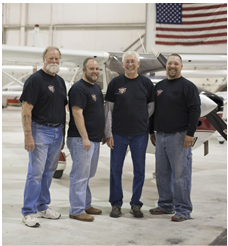 282 Airport Road, Anderson, IN 46017
Anderson Aircraft Service is your partner in
maintaining your aircraft.
Whether it is an oil change or annual
inspection our team promises to communicate
with you each step of the way. We serve your
aviation needs as if they are our own. Our
Director of Maintenance is a pilot an owns
his own aircraft; he understands your needs.
Our goal is to provide you with an experienced inspection and quality repair that
you can trust when you take off in your airplane.
We belive that aircraft maintenance should be efficient, transparent and cost
effective. We believe that you should know what is going on throughtout each
maintenance event. We believe you should be able to fly your aircraft away with
the confidence that everything has been completed correctly.